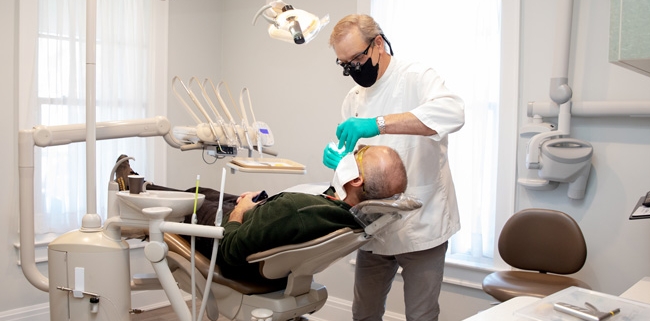 GREENWICH – Local dentists are reminding Greenwich residents that dental care should not be neglected, even during the current pandemic. Last March, when the pandemic first reached U.S. shores, many cities issued stay-at-home or shelter-in-place orders.
Connecticut was among those states, but since dental offices fell under essential services, they remained open. Still, during 2020, many patients chose to delay routine care, such as cleanings or fillings, out of an abundance of caution or a fear of being exposed to coronavirus. The trend was nationwide, as people weighed the risks of being indoors in situations where social distancing might not be possible.
In November, the American Dental Association released a statement to remind Americans that dental practices remain open, that dentistry can be practiced safely with procedures adhering to COVID-19 prevention guidelines, and that dental care is essential healthcare. "At this point in time, the American Dental Association firmly believes dental care can continue to be delivered safely," said ADA President Daniel J. Klemmedson in that statement.
Now, with vaccines on the horizon, and the first doses being administered in our community and across the state, Dr. Steven Altman, of Greenwich Dental Group, says he'd like to get the word out that it's safe to visit your dentist. Dr. Altman recalls that in March of last year, the Greenwich Dental Group practice immediately saw a decline in appointments, seeing fewer patients as a result of the pandemic lockdown. "When this all started, back in March, there was definitely a drastic drop, especially for elective procedures," Dr. Altman says now. "As essential workers, we were still open for emergency calls." But, where the practice typically would see between 50 and 60 patients a day, that dropped to three or four on a typical day.
Greenwich Dental Group is located on Field Point Road, and is headed up by Dr. David Zadik, who has been a dental care provider in the community for 28 years. Dr. Altman joined the practice ten years ago. The group provides family dentistry, pediatric dentistry, and cosmetic dentistry.
When coronavirus hit Connecticut, Greenwich Dental Group had already planned to renovate their offices. But the slowdown gave the dentists an opportunity to rethink those plans. "For us, we were a little bit lucky, because we were doing renovations," Dr. Altman said. The pandemic imposed a new direction on those plans: "We had the opportunity to do something different to make the environment safer."
By summer of last year, the group had installed significant safety upgrades, including HEPA filtration, hand sanitizing stations for patients, and Plexiglas dividers in reception. They implemented other safety protocols as well, including travel questionnaires, temperature checks, symptom screenings, and more space to facilitate social distancing. They also installed a UVC lighting system that has been shown to kill viruses. "That made patients feel comfortable," Dr. Altman said. "So little by little, word spread, and now we're pretty much back to the level where we were."
Now, COVID-19 vaccines are here, and while the rollout will take months, vaccinations raise hopes that a return to normal life is on the horizon in the state of Connecticut. That's great news. But some dental practices in the state are preparing for a post-COVID uptick in the number of patient visits, as patients who delayed care rush to seek treatment. That could prove problematic, as a rush of patients could mean additional delays. And delaying routine cleanings and fillings can allow conditions to worsen. "A problem that would have meant thirty minutes in the chair can turn into three hours in the chair, or multiple visits," Dr. Altman cautions. "Maybe you needed a simple filling and now it's a root canal with a post, with a crown, and instead of a few hundred dollars, it's a four-thousand-dollar problem."
The foundation of dental health is preventive care. Good dental care supports your overall health. By the same token, poor dental health can weaken immune defenses and undermine general wellness. So, ironically, delaying dental care for fear of coronavirus could prove counterproductive. Patients may be exacerbating risk of a weakened immune system, out of an exaggerated fear of the risks of exposure to COVID-19 during a dental visit. Even under normal conditions, Dr. Altman says, dental plaque harbors bacteria, which the body must use its immune resources to combat. That can leave you vulnerable to infection. "It's always better to be proactive. That's what we've been doing since March."
The bottom line? You don't need to wait for the vaccine to visit your dentist. It's safe to see your dentist now. And especially, if you've put off regular care, you probably can't afford to wait.
–Kris Herndon
Originally appeared in the Greenwich Sentinel
https://www.greenwichdentalgroup.com/wp-content/uploads/2021/12/DrZadikwithPatient-3.jpg
461
650
cw000
https://www.greenwichdentalgroup.com/wp-content/uploads/2021/02/GDG_HORIZONTAL_WEB.png
cw000
2021-02-26 21:48:36
2022-11-24 16:12:24
Don't Delay Dental Cleanings, Local Dentists Urge